Podcastfolge 49 – Februar 2023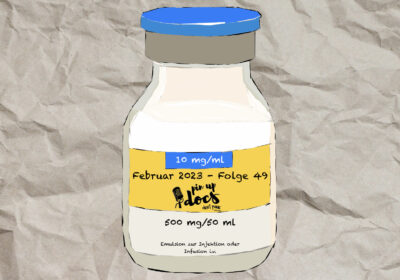 Journal Club
Johannes: Appropriateness of Initial Course of Action in the Management of Blunt Trauma Based on a Diagnostic Workup Including an Extended Ultrasonography Scan. JAMA Netw Open. 2022 Dec 1;5(12):e2245432. doi: 10.1001/jamanetworkopen.2022.45432.
Ines:
Romero C, Shartar S, Carr MJ. Pericardial Tamponade After Systemic Alteplase in Stroke and Emergent Reversal With Tranexamic Acid. Clin Pract Cases Emerg Med. 2019 Dec 17;4(1):55-58. doi: 10.5811/cpcem.2019.10.44369. PMID: 32064426; PMCID: PMC7012568.
Sanghvi S, Van Tuyl A, Greenstein J, Hahn B. Tranexamic acid for treatment of pulmonary hemorrhage after tissue plasminogen activator administration for intubated patient. Am J Emerg Med. 2019 Aug;37(8):1602.e5-1602.e6. doi: 10.1016/j.ajem.2019.05.024. Epub 2019 May 14. PMID: 31130371.
French KF, White J, Hoesch RE. Treatment of intracerebral hemorrhage with tranexamic acid after thrombolysis with tissue plasminogen activator. Neurocrit Care. 2012 Aug;17(1):107-11. doi: 10.1007/s12028-012-9681-5. PMID: 22311234.
Mark und Thorben:
Jan: Chaudhuri D, Jinah R, Burns KEA, Angriman F, Ferreyro BL, Munshi L, Goligher E, Scales D, Cook DJ, Mauri T, Rochwerg B. Helmet noninvasive ventilation compared to facemask noninvasive ventilation and high-flow nasal cannula in acute respiratory failure: a systematic review and meta-analysis. Eur Respir J. 2022 Mar 10;59(3):2101269. doi: 10.1183/13993003.01269-2021. PMID: 34413155.
Haerkens MH, Kox M, Lemson J, Houterman S, van der Hoeven JG, Pickkers P. Crew Resource Management in the Intensive Care Unit: a prospective 3-year cohort study. Acta Anaesthesiol Scand. 2015 Nov;59(10):1319-29. doi: 10.1111/aas.12573. Epub 2015 Jun 16. PMID: 26079640; PMCID: PMC5033035.
Moffatt-Bruce SD, Hefner JL, Mekhjian H, McAlearney JS, Latimer Rn Ms T, Ellison C, Scheck McAlearney A. What Is the Return on Investment for Implementation of a Crew Resource Management Program at an Academic Medical Center?. Am J Med Qual. 2019 Sep/Oct;34(5):502-508. doi: 10.1177/1062860619873226. PMID: 31479291.
El Khamali R, Mouaci A, Valera S, Cano-Chervel M, Pinglis C, Sanz C, Allal A, Attard V, Malardier J, Delfino M, D'Anna F, Rostini P, Aguilard S, Berthias K, Cresta B, Iride F, Reynaud V, Suard J, Syja W, Vankiersbilck C, Chevalier N, Inthavong K, Forel JM, Baumstarck K, Papazian L; SISTRESSREA Study Group. Effects of a Multimodal Program Including Simulation on Job Strain Among Nurses Working in Intensive Care Units: A Randomized Clinical Trial. JAMA. 2018 Nov 20;320(19):1988-1997. doi: 10.1001/jama.2018.14284. PMID: 30357264; PMCID: PMC6248163.
Hautpthemen:
Stumpfes Thoraxtrauma – Commotio cordis und Contusio cordis
Herzschmerz mal anders
Quellen und Shownotes folgen
perioperative Anaphylaxie
Anaphylaxie ist perioperativ auf Grund der Umstände und der Nebenwirkungen der Narkose und operativen Verfahren schwierig zu diagnostizieren.
Die wichtigste Therapie nach dem Stoppen des Agens ist die Gabe von Adrenalin in der richtigen Dosis über den richtigen Applikationswegs.
Die Anaphylaxie Reaktion kann trotz adäquater Therapie fortschreiten.
Eine Allergie Diagnostik sollte bei schwerer Anaphylaxie ca. 6 Wochen in Absprache mit dem Hausarzt durchgeführt werden.
Die Anamnestische Penicillin Allergie hat große Konsequenzen für Patienten und das Gesundheitssystem.
Quellen:
•Leitlinie zu Akuttherapie und Management der Anaphylaxie – Update 2021: S2k-Leitlinie der Deutschen Gesellschaft für Allergologie und klinische Immunologie (DGAKI)
•Manian, D.V., Volcheck, G.W. Perioperative Anaphylaxis: Evaluation and Management. Clinic Rev Allerg Immunol 62, 383–399 (2022). https://doi.org/10.1007/s12016-021-08874-1
•Charles Tacquard, Toshiaki Iba, Jerrold H. Levy; Perioperative Anaphylaxis. Anesthesiology 2023; 138:100–110 doi: https://doi.org/10.1097/ALN.0000000000004419
•Kunzel S, Werschy A, Koch T. Management der Anaphylaxie im OP [Management of perioperativeanaphylaxis]. Anaesthesist. 2020 Sep;69(9):685-698. German. doi: 10.1007/s00101-020-00825-3. PMID: 32757033.
•Sadleir, P.H.M., Clarke, R.C., Bozic, B. and Platt, P.R. (2018), Consequences of proceeding with surgery after resuscitation from intra-operative anaphylaxis. Anaesthesia, 73: 32-39. https://doi.org/10.1111/anae.14106
•Hepner, David L. MD*; Castells, Mariana C. MD, PhD†. Anaphylaxis During the Perioperative Period. Anesthesia & Analgesia 97(5):p 1381-1395, November 2003. | DOI: 10.1213/01.ANE.0000082993.84883.7D
• Arzneimittelüberempfindlichkeit: Diagnostik, Genetik und Vermeidung
Dtsch Arztebl Int 2018; 115: 501-12; DOI: 10.3238/arztebl.2018.0501
Böhm, Ruwen; Proksch, Ehrhardt; Schwarz, Thomas; Cascorbi, Ingolf
Pumphrey RS. Lessons for management of anaphylaxis from a study of fatal reactions. Clin Exp Allergy. 2000 Aug;30(8):1144-50. doi: 10.1046/j.1365-2222.2000.00864.x. PMID: 10931122.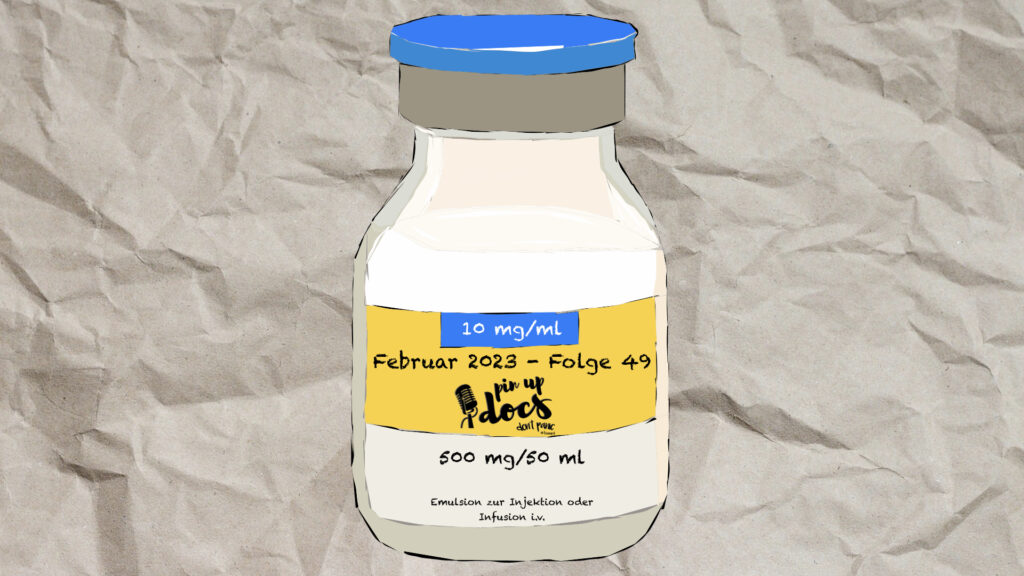 Podcast: Play in new window | Download